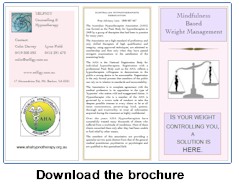 Generally, weight retention is associated with three areas: eating habits, exercise, and let's say… personal issues. Too often, diets focus on the first two and ignore the latter, which can lead to a self-defeating experience, if the personal issues are the primary cause of weight retention.
The various Weight Management Programmes recognises all three areas and the individual programme is usually customised to suit your particular needs. Weight management is for the long term and should be viewed as making changes that are going to be maintained as part of your lifestyle, rather than as an imposition on your life.
Mindfulness-Based Weight Management
This is a group based programme that runs for six sessions, group size is approximately eight participants with two conveners. Each session includes: group discussion, Mindfulness training focused specifically on weight management, and relaxation/hypnotherapy that helps reinforce the topic of the session. Home exercises are also part of the programme.
The programme conveners are Colin (psychotherapist) and Lynn (nutritionist). If you would like more specific information on this programme you can contact Colin or Lynn (mob: 0415 391 670, email: lynnfield3@bigpond.com).
Weight Release - Intra Gastric Balloon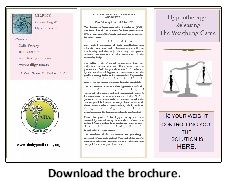 This programme is for individual clients and based on hypnotic suggestions of inserting a virtual intra gastric balloon. There are six sessions in the programme, this is usually tailored to the client's needs and so the format and length may vary from the standard programme.
In the case of a real Intra Gastric Balloon, a special balloon is placed in the stomach, via the mouth, and filled with a sterile saline solution. This takes up a significant volume of the stomach and effectively reduces the amount that one can eat. The virtual intra gastric balloon suggestions help with establishing better control of over eating.